Standard Concrete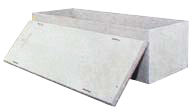 Below is a selection of basic concrete vaults featuring a concrete base and a one-piece top lid. Although not a sealed protective unit, they do meet the minimal requirements at cemeteries where burial vaults are a bylaw requirement.
Delphi

More info / Customize
Steel reinforced concrete grave liner with sealed lid. Nameplate, emblem, and choice of color.